Fans line up outside tiny Georgina's Taqueria for a taste of Tony Craig's spicy, earthy cuisine.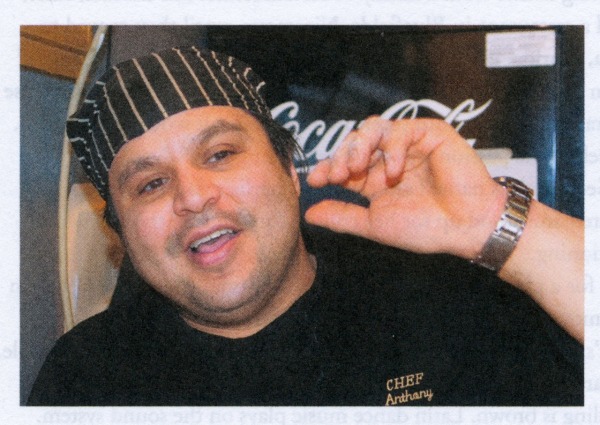 By Patty LaNoue Stearns
Photo by Tracy Grant
It's 3 p.m. on a Wednesday afternoon and Georgina's, the tiny eatery at the east end of Front Street, is slammed. This is supposed to be Tony Craig's slow time of the day, but it's early April, the sun is shining, and the word is out about his restaurant. Traverse City, it is clear, is in dire need of his crazy mixed-up Latin-Asian fusion food.
Two cars pull up, their occupants spill out, look inside and see that all the seats are taken. They wait outside in their vehicles on this bright but nippy afternoon, inhaling the heavenly combo of cumin and garlic that wafts into the street from the kitchen. A few other would-be patrons stroll up, then decide to come back later.
Inside, Chef Craig, the restaurant's Nicaragua-born, half-Cuban, quarter- Chinese proprietor, is a ball of fire at his six-burner stove, plating orders and bumping elbows in the diminutive space with his sous chef, Scott Turner, and Lorrie Parks, the cashier/server.
As each order is delivered, the appreciative oohs and ahhs are audible. The fragrance that floats around the 11-seat cafe matches the painterly platters: Tacos with multicolored stripes of spicy sauces, thick-rice-noodled chicken pad Thai in deep greens and cream.
Craig offers two visitors a spoonful of the velvety tomato sauce that envelopes his long-simmered ropa vieja (Spanish for "old clothes"), tender, spicy shredded beef served over rice and beans. "Butter binds the flavor–garlic, butter, tomato paste, red wine and more butter," the chef explains, adding: "Sweet butter."
The 44-year-old chef has lived and worked in Traverse City seven out of the last 10 years, including stints at 310, now Firefly ("it's my menu," he says, "but I took my recipes with me"), and The Boathouse. Before that, Miami, Florida. He makes all of his sauces from scratch. He infuses oils for his Asian dishes–peanut hot oil, ginger oil, garlic oil–so that the flavor stays mellow and doesn't't turn bitter in case the pan heats up too much while he's talking to customers. That's another of his specialties. He loves to work the room.
    Craig comes from a family of restaurateurs. His mother, Elsie, owned a restaurant in Bluefields, Nicaragua, until they moved to Tampa, Florida, when Tony was eight. (Elsie married an American, her son took his last name.) Craig's uncle, Charlie, owned a Chinese restaurant in Miami until recently. Tony knew it would be his path, too, feeling the passion way back as a young teen.
Georgina's is named after Uncle Charlie's daughter, who protected and stood up for her cousin Tony during those years of transitioning. "She was my guardian angel," he says. After a long search for a place of his own downtown, it finally happened. Nine Bean Rows moved out, and Georgina's was born.
It's not fancy. Space is tight. The tables are small and they wobble. The parquet floor is uneven. The artless walls are battleship gray and the ceiling is brown. Latin disco plays on the sound system.
But nobody's here for the ambience. Georgina's is about adventure. If you've ever been to Miami, some of the food on the menu may sound familiar, but you won't find Craig's brand of fusion anywhere.
"This is not born of a gimmick, it's born of my family–it's how I grew up," says the chef. He encourages patrons to ask him about his Thai tacos, chancho con yucca, lomo saltado or curry beef. Wash them down with some Fanta or unsweetened ice tea. Top your meal off with a cream cheese-cheesecake flan.
Georgina's opened February 12. The first two days Craig served free food. He wanted to let people know what his cuisine was all about. After that, it has been a steady stream, and often, like this day in April, people are waiting to get in. Even though no alcohol is served, customers linger an average 45 minutes. That's partly because Tony Craig makes sure to hit every table, find out who his customers are and educate them about each dish. Like the tallarines con chorizo y queso (sausage with pasta, cheese and fried egg) or chicken stir fry con tallarines (pasta). Most customers try a different entree–most about $13–each time they visit, according to Craig. If the 663 "likes" and unsolicited comments on Facebook are a good barometer, people can't wait to go back for more.
When the weather warms, there will be outdoor seating, but until then, Craig asks: "Please be patient. I'm thankful for everyone who comes. Sometimes they don't want to leave."
Georgina's is open seven days a week from 10:30 a.m. to 9 p.m. 439 E Front St., Traverse City, 213-943-1555, http://www.georginastaqueria.com.

Georgina's Flavor Fundamentals
We asked Tony Craig, chef-proprietor of Georgina's, to name some of his favorite spices. He says his cooking is more about how you treat spices and blend them rather than any particular favorite.
For the Latin side of his menu, he relies on garlic, salt, freshly ground black pepper, onions, white vinegar, red and white wine and green bell peppers.
The fundamental flavorings on the Asian side include sesame oil, rice wine vinegar, sugar, ginger, garlic, salt, eggs and cornstarch. —Patty LaNoue Stearns
This story originally appeared in the Spring 2013 issue of Edible Grand Traverse.