Provence Comes to Northern Michigan with Divine Recipes
By Patty LaNoue Stearns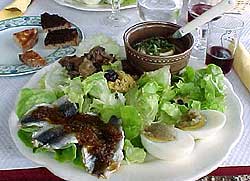 TRAVERSE CITY–No need to jump on a plane and travel to France this summer for lessons at a bona fide Provencal cooking school. Madeleine and Erick Vedel are bringing their school direct from Arles, in France's Provence region, to Northern Michigan in early August. They're even taking along Provencal table linens, sea salt and olive oil to make things even more authentic.
Arles native Erick Vedel is a self-taught chef and food historian whose research of Provencal cuisine goes back to the Romans and even earlier to the scant records of Etruscan life. He and the former Madeleine Hill opened Association Cuisine et Tradition School of Provencale Cuisine in 1996 to share his discoveries and love of food, after a whirlwind courtship and marriage. She was in graduate school in Paris studying photography and art management when they met. Madeleine's family lives in New York, but they have summered on Long Lake outside Traverse City since before the turn of last century.
"My spirit is nourished every time I come back to Traverse City," she says, noting that the bounty of fresh produce and superb specialty and wine stores in the region make it the ideal place to cook Provencale cuisine. This is the fourth year the Vedels have offered the classes, which include three hours of hands-on instruction with dinner following, featuring at least four dishes prepared by the students. They learn to make an appetizer such as caviar d'aubergine (eggplant), a vegetable dish, stews and roasts, some of the classic soups of Provence, a number of fish recipes and light summer desserts. Salad, a cheese course and wines from the South of France are provided.
"Erick does a bit of demonstration, then passes out the cutting boards and knives, and all join in, the goal being not to simply prepare the meal but to be assured that each participant will go home with the extra little hints and tricks," Madeleine explains. "Our students learn new ways of working with garlic and tomatoes, the multitude of possibilities in a mayonnaise (ailoli), and a deep appreciation for top quality and naturally ripened ingredients." The Vedels teach long weekend and full-week classes in their home in the heart of Provence, where master painter Vincent Van Gogh rhapsodized about the exceptional quality of the light — another similarity found in Northern Michigan.
They take day trips each morning to visit local food artisans and wineries. "In Provence, we stress meeting the artisan and learning how the product is made, be it wine, cheese, pottery, sausage or honey (extracted, in this case), and we stress a close contact to the source of the food," says Madeleine. They feast each evening on dishes they prepare.
"Our house is a typical vertical Provencale townhouse within the ancient Roman walls of Arles," says Madeleine. "We have a wonderful large room downstairs that used to be a stables. It is now transformed into our cooking room. The house has sections from the Renaissance, and from as late as the 19th century. We've a bit of wall that may date back to the Visigoths and the 18th century. In any case, we live on land that has been lived on for at least 2,500 years."
"It's a delightful experience," Emita Hill, Madeleine's mother, says of the Arles classes. "Erick's cooking is so very historic – there's no butter in the house, like the way I learned to cook with Julia Child. It's a very healthy diet." She hosts one of the Northern Michigan cooking classes at her cottage on Long Lake. The Vedels' cooking classes in Arles, France are generally limited to eight people and resume Sept. 14-20 for the Classic Week Gourmand, Sept. 28-Oct. 2 for the Mini-Gourmand, Oct. 14-20 for Hiking and Feasting Week and Oct. 16-21 for the Wine Lovers course.
For more information, visit www.cuisineprovencale.com.
Former Free Press staffer Patty LaNoue Stearns is a Traverse City-based freelance writer).
---
Recipes from Erick Vedel, Association Cuisine et Tradition
The Menu Aubergines en Barrigoule – Grilled Eggplant with a Persillade Variation : Crepes en Barrigoule – Porcini Mushrooms with a Persillade
This is a great summer dish, easy to prepare ahead of time and just as good chilled or room temperature. Prepare it one day, and bring it the next for a picnic!
Preparation time : 20 minutes ; cooking time – depends on your grill 15 – 30 minutes. Serves 6.
3 short, fat eggplant/aubergine of any color – or a couple large and meaty fresh porcini mushrooms
4 large garlic cloves, minced
4 large garlic cloves, pureed
juice of 1/2 a lemon
pinch of salt a
bunch of parsley
olive oil in generous amounts
Prepare a grilling surface, either your outdoor grill, or a ridged stovetop grill. Cast iron works beautifully. You will grill without oil, but you want the grill itself to be nonstick or well-seasoned. Get it nice and hot. Slice the eggplant by first cutting off the green tip. Slice in half, then, taking a cut side down, use a knife with a 1/3 inch or smaller handle side, and holding the handle firmly flat on your cutting surface, slice the eggplant. You will have even slices the width of half your knife handle. Continue until done, then start to grill the eggplant, 2-4 minutes per side until the lines are dark brown and visible, and the eggplant starts to wilt. Set aside.
For the persillade: Puree the 4 garlic cloves. On a small plate, squeeze the lemon juice, sprinkle the pinch of fine salt, take a sharp pronged fork and place the prongs flat on the plate, take a peeled garlic clove (the larger the easier to handle) and scrape it back and forth on the tips of the prongs. You will produce a fine puree that will be lightly cured by the acid of the lemon juice, ideal for cold sauces and salad dressings. Then take the other 4 garlic cloves and mince them finely, squeeze lemon juice on these too. Chop the parsley leaves coarsely, blend the garlic and parsley together, put aside. To assemble, take a deep-rimmed serving platter and layer one layer of eggplant. Sprinkle some of the parsley mixture on the slices, and then pour olive oil on top. Layer another layer of eggplant, sprinkle on the parsley mixture, and pour on olive oil, continue till done, ending with the parsley and olive oil. This dish keeps very well in the fridge for up to a week, and if you cover it well with olive oil so that the eggplant does not poke above the oil, it can keep longer. Aioli The classic aioli is eaten by the whole family on Friday, the day of fasting and no red meat. Prepare your steamed vegetables, poached fish, boiled shrimp and snails, boiled eggs, and a plate of crudites, lots of good country bread, perhaps a rose wine, and enjoy.
For the aioli:
1 egg yolk (very fresh, and preferably at room temperature)
1 teaspoon of Dijon mustard
A couple squeezes of fresh lemon juice
A pinch of salt 1 cup or so of olive oil (preferably a fruity and not highly acidic oil)
The puree of 2 large garlic cloves
For the platters:
Steamed vegetables : carrots, potatoes, broccoli, cauliflower, fennel root, turnip
Fresh vegetables : tomatoes, mushrooms, celery, carrots, turnip, fennel root
Poached de-salted salt cod, salmon, shrimp, hard-boiled eggs. Good crusty country bread.
1. Prepare the garlic: on a small plate, squeeze the lemon juice, sprinkle the pinch of fine salt, take a sharp pronged fork and place the prongs flat on the plate, take a peeled garlic clove (the larger, the easier to handle) and scrape it back and forth on the tips of the prongs. You will produce a fine puree that will be lightly cured by the acid of the lemon juice, ideal for cold sauces and salad dressings.
2. Prepare a mayonnaise: In a bowl start stirring with a whisk or a fork the first egg yolk, the lemon juice, the salt and the mustard; pour in the olive oil in a steady and thin stream, carefully whisking it into the yolk mixture, stop when you reach a good and relatively solid texture (about a cup of olive oil). Pour your pureed garlic into the mayonnaise, whip up stiff and put aside. Arrange all your vegetables and fish on separate platters, serve warm or room temperature with a dollop of the aioli for each.
---
Gelée d'huile d'Olive aux Herbes
A fresh summer recipe to accompany poached or baked fish, fresh vegetables, pasta or simply hearty country bread.
2 t fresh dill, chopped
2 t fresh chives, chopped
1 t minced onion
A couple of drops of fresh lemon juice
1/2 cup extra-virgin cold-pressed olive oil
Salt and pepper to taste
Mix the above ingredients in a small bowl and refrigerate a minimum of 2 hours, so that the gelee takes. Remove and serve immediately.