Dreamboat
It began with an experiment in plywood. Eighteen years later, Al and Betsie Anderson have combined artisanship with ancient traditions to create sleek, glowing watercraft. Discover the alchemy that makes their Betsie Bay Kayaks the most sought-after boats in their class.
By Patty LaNoue Stearns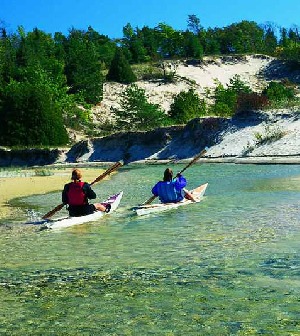 FRANKFORT–Legs straight, leaning back in the small cockpit, I sit inches above the crystal water. Each stroke of my paddle cuts a smooth swath into the cool glass of Benzie County's Lower Herring Lake. The long, narrow kayak moves swiftly, effortlessly, quietly. The shore is now a sandy blur, the sleek kayak is like a second skin, and the only sound that matters to me on this late-summer afternoon is the rhythmic slicing of wood against water.
Al and Betsie Anderson float nearby, watching from their needle-bowed boats. "Doing good–keep the paddle low, stay centered," Al instructs, looking like a young King Neptune with his well-muscled physique, golden hair, intense blue eyes and nostrils that flare above a wide blonde mustache and flowing beard. Betsie is half his size, a sprightly mermaid with a sultry voice.
The couple is giving me, a beginner, a hands-on demo of one of their southwest Greenland-style hunting crafts–better known as a Betsie Bay Kayak–and now it's showtime. Al crosses his arms in front, holds his breath, leans hard to the right and disappears under the water, revealing the kayak's underside. Then, like some kind of life-size tippy toy, he is right side up again.
"An Eskimo roll," he explains, water streaming from his beard, and not a drop inside the kayak. Like the ancient Inuit kayaks built thousands of years ago by Greenland Eskimos to spear whales from the sea and tow them home, these are unsinkable. At $3,000 a pop, sans paddle, they'd better be. It's just one of the reasons aficionados consider these lightweight, high-performance, handmade-in-Frankfort beauties the Ferraris of sea kayaks.
---
This article first appeared in the June 2001 issue of Traverse, Northern Michigan's Magazine. Click the link below to view this entire article in PDF format.